I found this recipe on justataste.com . It was really good. All the adults liked it and Ryan. It wasn't too hard to make.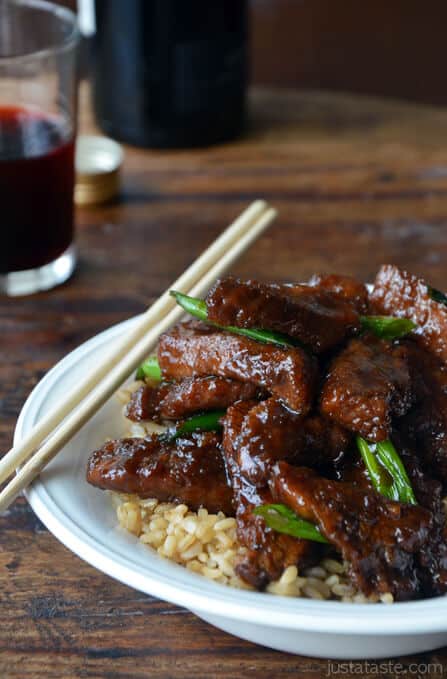 Mongolian Beef
Ingredients:
Vegetable oil
1/2 teaspoon minced fresh ginger
1 tablespoon minced garlic
1/2 cup low sodium soy sauce
( used regular soy sauce)
1/2 cup water
2/3 cup dark brown sugar
(I just used light brown sugar)
1 (1-pound) flank steak
1/4 cup cornstarch
3 scallions (green parts only), sliced into 1-inch pieces
Directions:
Heat 2 teaspoons vegetable oil in a small saucepot over medium-low heat. Add the ginger and garlic and sauté until golden, about 2 minutes. Add the soy sauce and water, stirring to combine.
Stir in the brown sugar and increase the heat to medium. Bring the sauce to a boil for 3 minutes. Remove the sauce from the heat and set aside.
Slice the flank steak against the grain into 1/4-inch pieces, then toss it with the cornstarch. Place the coated pieces of steak in a sieve and shake off any excess cornstarch. Allow the steak to sit 10 for minutes.
Place a large sauté pan or wok over medium-high heat and add 1/2 cup vegetable oil.
(I did not used 1/2 cup of oil. I used about 1/4 cup and that still seemed like a little much)
Once the oil is hot (but not smoking), add the beef to the pan and sauté for 2 minutes until it is seared on all sides but barely cooked in the center. Remove the steak from the pan with a slotted spoon and transfer it onto a paper towel-lined plate. Pour any excess oil out of the wok.
Place the sauté pan back over medium heat. Add the prepared sauce to the hot pan (it should come to a boil almost immediately), then add the reserved steak and cook at a boil, stirring constantly, 2 minutes. Add the sliced scallions, stirring to combine.
Transfer steak and scallions with a slotted spoon to a plate and serve.
Kelly's Notes:
This recipe can be easily doubled to serve 4.
The key to cooking with cornstarch is that it must come to a boil in order to serve its purpose as a thickener.